TOKYU THEATRE Orb: Facility Information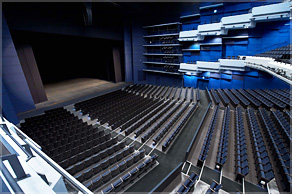 One of its features is that it is a "convertible" theatre that can be adapted to any kind of production either from Japan or from overseas. This theatre allows so much flexibility for installation of lighting bridges and equipment brought in from outside that musicals invited from abroad can stay true to their original productions when staged here. The stage is not only intimate for the audience but also provides a high level of freedom of production. This can make musicals even more moving.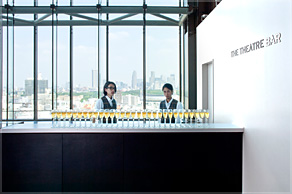 THE THEATRE BAR, located in the Level 2 foyer, is one of the elements designed to color and enrich your musical experience at TOKYU THEATRE Orb, where you can enjoy, to your heart's content, the excitement of being at a theatre while watching the view of Shibuya change from moment to moment. Actually, this bar is a premium viewing spot for the night view of Shibuya. The aim is to make the most of this strength and provide visitors with a space that makes them think, "I want to stay in this place forever." The concept is: approachable and stylish. The bar aims to constantly generate publicity, for example by offering a special menu themed on the night's performance, to entice many people to come to it.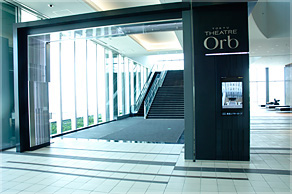 The entrance to the Theatre is situated on the 11th floor, which is busy with crowds of people. However, the hall, which is open-plan and spacious, is a perfect meeting place. Spending some time in the dining area before entering the Theatre is also a good way to increase your excitement and expectation. As TOKYU THEATRE Orb is part of the Shibuya Hikarie complex, visitors can also enjoy shopping and eating out after watching productions without needing to worry about catching the last train. In addition, as this floor is also used by users of the building's offices, it can give you the chance to rub shoulders with many different people and make new friends.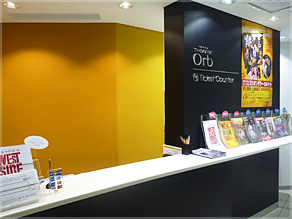 The Theatre has a very convenient ticket counter located on the second floor, just outside the ticket gate, which is the busiest area in Shibuya Hikarie. As it is a typical counter, you can casually drop in whenever you have a short slot of time, like when you are on your way somewhere, on your way home from work or have a little time to spare during your lunch break. You can also purchase same-day tickets on the theatre floor (13th).
Copyright © TOKYU BUNKAMURA, INC. ALL RIGHTS RESERVED.